In and out of the digital screens.
Follow me on my journey! It's a real world journey as I travel with my equipment into the woods for forty afternoons throughout a year. Possibly it's also a personal inner travelling. I hope and think that I somehow will change as a person. I present every painting that I paint during these forty afternoons without exceptions. I do this because I wish to show the true story. Some of the paintings are embarrassing to me. Still I show them off. In this plastic and digital age it is sometimes hard to tell the real from the false. Through digital screens I will try to evoke some urge in you for going out into the woods in order to get some spare time from the ever present digital screens. Escape from living on the surface to dig into deeper grounds. Smell wet soil or feel the rain as it drops from your hair...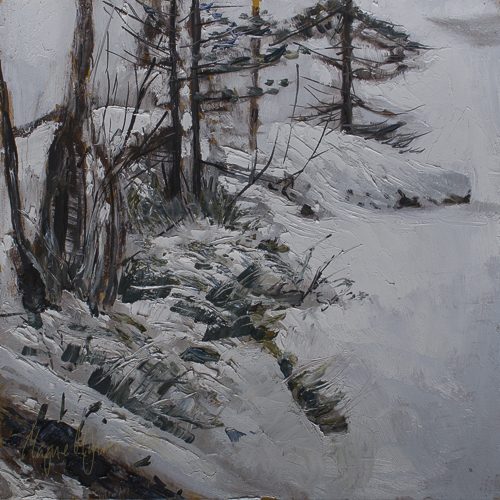 Day fifteen – Friday January 12 – 2018. Starting at 14:40
1 hour, 45 min
30cm x 30cm
Oils
I thought it was the worst painting this far in the project, after finishing it, but perhaps it brought me into a different and interesting new path.
I was tired and I felt like the chill became a part of my body. I couldn't manage to paint in a concentrated and detailed manner. I flushed the paint all over the painting-board with more and more rapid movements.
Perhaps I can use this approach in later paintings to make them more emotionally involving? Perhaps I could combine the details and the roughness?
Could it be that I had to get into this situation to get to the point where I was pushing my own boundaries?