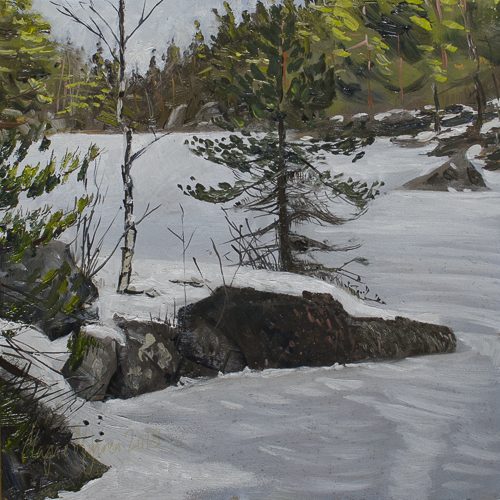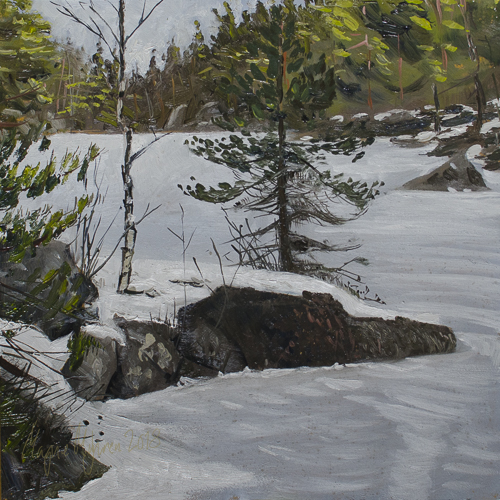 Day seventeen – Sunday January 28 – 2018. Starting at 14:15
2 hours
30cm x 30cm
Oils
A new and windy thaw. It's surely still January, but it feels like spring-time. This Friday I was occupied with work and examining my pupils, so I had to go out painting in the weekend, Sunday.
The bike-trolley got loaded in the normal way, and I was eager to get out. After cycling about half an hour or so on ice and snow, I had to give it up. I set the bike aside and went for a hike with the load on my back. I had to choose a different route than the normal one.
Though the video is in Norwegian you will get an impression of the conditions. The cycling and hiking altogether took about one hour and forty-five minutes.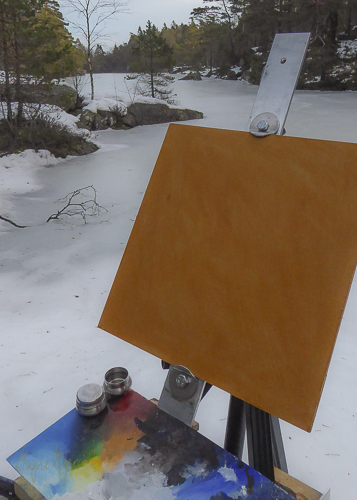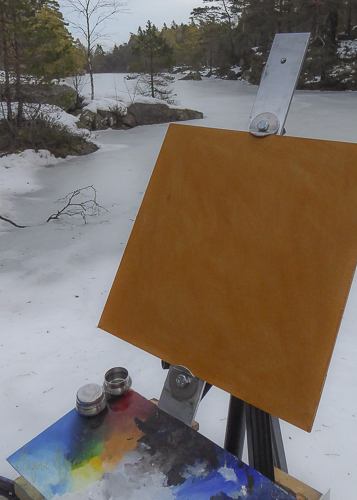 Today I wanted to try another approach in order to capture the shifting lighting-conditions. Instead of carefully laying in all the major parts, which sometimes is quite time-consuming, I just painted the reddish, gray-brown forrest in the back of the painting, painting thinly, and then  I painted the greens which were sun-lit. I knew that this would possibly rapidly change, but now it was captured, and it wouldn't matter if the sun disappeared again, as the rest of the landscape lay in shadows.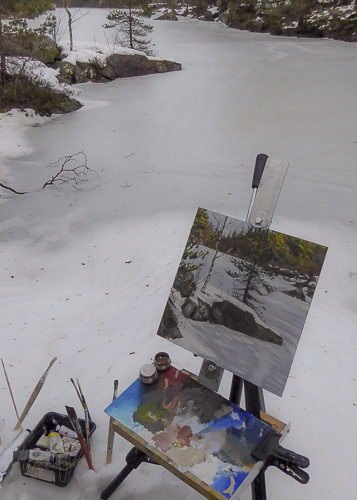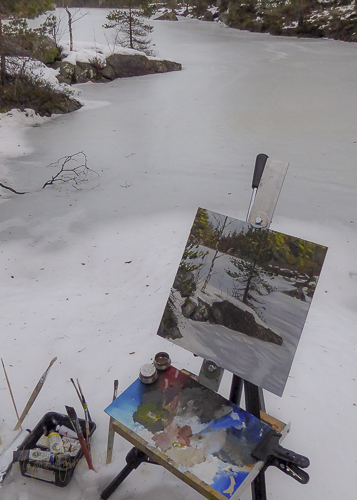 I've bought some new pair of mountain-boots which kept me warm and dry during the whole session.
After finishing the painting, I felt it would have been nice to set a camp there for the night, but unfortunately it will be Monday tomorrow, and my pupils will be waiting for me. Packing and getting home is a part of the routine.
A thought; Could it be that it is the winter-season that gives the most varied subjects and sceneries to paint?
Magne