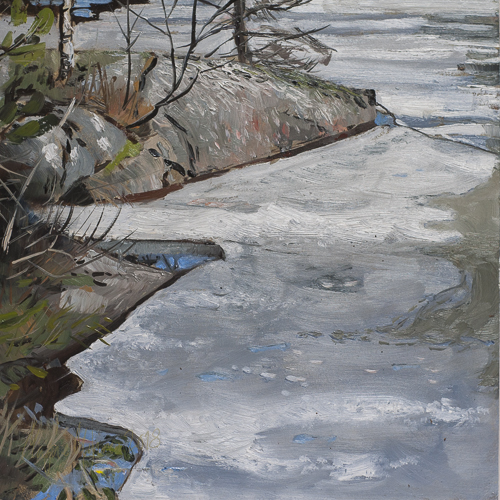 Day twenty-six– Friday April 20 – 2018. Starting at 1445
1 hour 45 min
30cm x 30cm
Oils
Most probably the last painting of snow or ice this season. Springtime! Seventeen out of forty paintings have got a frosty -, snowy – or icy theme. This is very unusual. The winters the last years have been short here in the southern part of Norway. When the first snow arrived in early winter I thought I had to capture it quickly as it might be just a few snowy days. I think that this is a big pluss for the project than an overall green one.
This has been a very special day. Painting snow, or at least ice, in twenty degrees centigrade. Odd!
I thought this day that there would be snow in the trails. I also had to do the whole trip by muscle-power, so I took jet another route.
Obviously you won't perhaps understand my Norwegian, but I put it here anyway to show the atmosphere of the walk, which took about 45 minutes. Then I know that this last route is the fastest one.
White, Mars Orange, Burnt Umber, Ultramarine, Yellow Ocher. The board is grounded with different layers of blueish White, Ocher and Burnt Umber. Acrylic glazes over pva-glue with Ocher pigment.
I had a bad feeling as I sat there in the end, so I made a new one. I struggled to concentrate and the palette went more and more muddy. As often I had a better feeling about it when I came back home.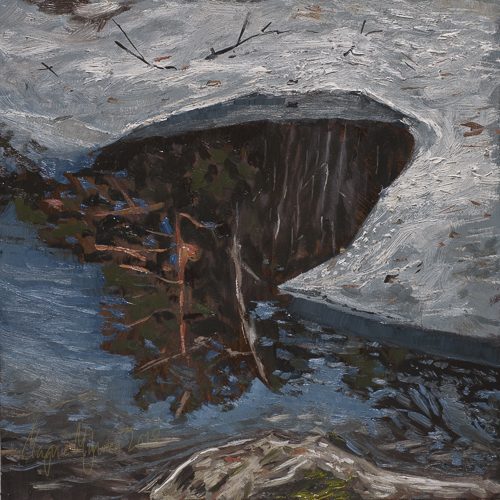 I fired up a really small fire for my coffee with some small twigs. I guess I'll do that more often in the future. It is good for me.