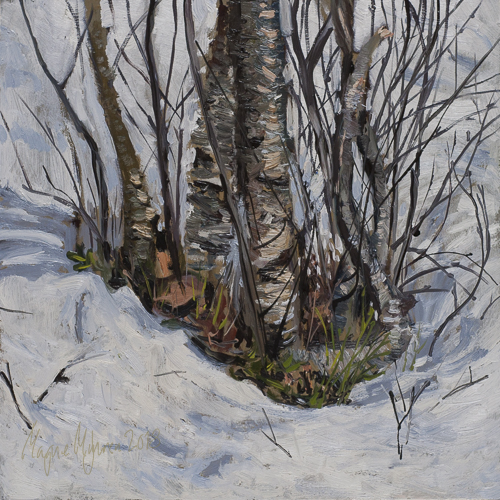 Day twenty-four – Friday April 6 – 2018. Starting at 1345
1 hour 45 min
30cm x 30cm
Oils
Still it's not possible to reach the area by bike, so I had to go by car. Nevertheless I had to walk in more than an hour, partly on snowshoes. I try to consider the walking part as just as important as the painting part. Therefore I slow down. Stop when I like to. Listen to my heatbeat. Walk a little. Stop again. There were plentiful of time to record sound and video along the way.
This day I chose yet another pair of colours for the grays, Mars Orange together with Ultramarine. MO is a little bit lesser red than Iron Oxide so the colours didn't get that violet. This pair was good!
This time the board was pre-painted with different grays with a semi-transparent coating of ocher. After a having made a rough sketch on the panel, I painted the snow. The negative forms are especially important here. In this way I feel I'm in control of the composition.The negative and the positive spaces are equally important for the resulting whole. If I manage to balance the two perspectives I have a quite good chance to get a good composition very quickly.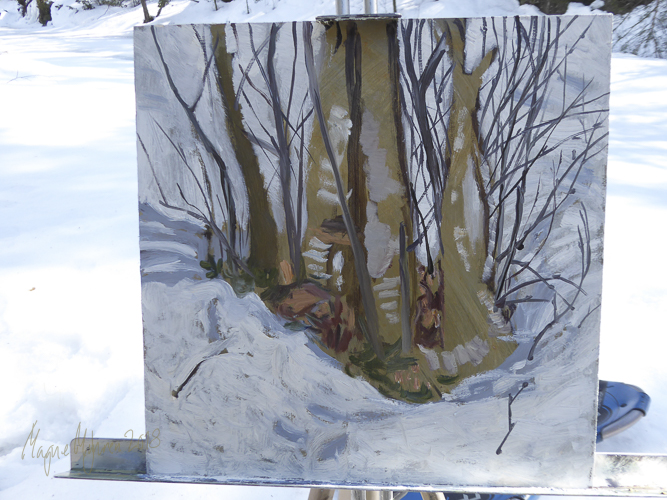 Unlike the other paintings I painted the twigs quite early in the process, and I also added some in the end of the process.
I didn't know how long I would have a lit scene, so I painted the highlights and the darks early on, in order to establish the contrasts.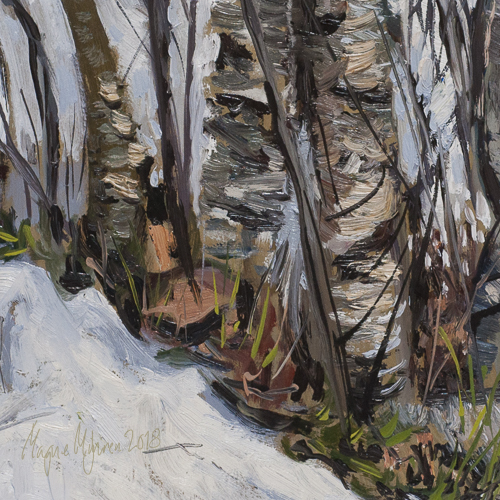 The birches were old and had a very rough structure. I tried to illude that by laying in som impasto strokes of light colours.
Magne